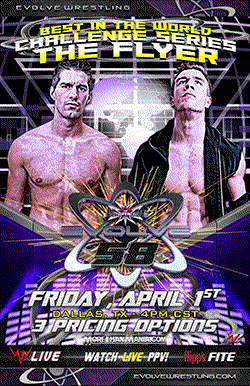 Jon Davis is an 8 year veteran who has made an impact in both Dragon Gate USA and EVOLVE this year and fans likely also remember him from his dominant team with Kory Chavis, The Dark City Fight Club. Dragon Gate USA wraps up their live event schedule this week for the year, with 3 big events on the East Coast in Revere, MA, Philadelphia, PA and Manhattan, NYC. You can order those events right here: http://www.wwnlive.com/signup.php?id=219 Davis will look to end a feud with The D.U.F. that has carried on over 7 months! We cover that with him and more - Enjoy!
1. You were trained by the legendary Dory Funk Jr. and Chris Turner. How did you get into pro wrestling and connected with those trainers?
I was doing a bunch of things in my life trying to decide on what path I would eventually travel down as a career. I'd grown up watching pro wrestling but had no idea how I would ever get into it. I was given a card for a school run by Chris Turner and decided to call. 2 weeks later, I was in the ring and was officially bitten by the bug. I worked for him for almost 2 years and then met Dory at a show in North Florida. No sooner had I introduced myself did the promoter come up and say that we were working in the Semi-Main Event. I was a bit nervous going into as I felt like "Hey, here's this legend who won his first WORLD title 10 years before I was born, what did I do to deserve this?" I didn't have the size I have now, but I was a solid 225 and I was kind of worried about seriously hurting Dory.
My bad.
That man beat my ass for 15 minutes straight. There was a point in the match after he hit me with a European uppercut where I forgot what I was doing until I hit the ropes. I learned a lot from him that night and was given the chance to learn even more over the next year and a half. I owe a lot of my toughness to Dory Funk Jr., who is easily the toughest man I've ever met in my life.
2. What are your favorite memories of pro wrestling as you were growing up? What promotions did you follow? What wrestlers were your favorites and why?
I loved anytime wrestling was on. My fondest memory was Summer Slam '92, which made me decide that I would become a wrestler one day. I was a big NWA fan young and didn't really get into the then WWF until I moved up North. My favorites were Arn Anderson and Bret Hart. Mainly because of their precision, but Arn's spine buster always got my attention. I always bit when he hit it and never expected anyone to kick out of it. Bret was more of the reason I decided on wrestling though. He was a "little" guy in a then land of giants who not only thrived, but became the champ and carried the company on his back for quite a while.
3. Fans that have only recently become familiar with you might not know about your tag team history and role as one half of The Dark City Fight Club with Kory Chavis. Do you have a preference in a singles or a tag team role? Is success in one avenue versus the other any more rewarding or meaningful?
The Dark City Fight Club is something that is very near to my heart. Kory and I went from "Rain man and that big light skinned dude, what's his name?" to the NWA World Tag Team Champions (reigning and defending) in the span of two and half years. I would never trade my time learning from Kory for anything. We work as a singular unit so there is no real difference when I'm tagging opposed to singles except I get to rest more. The NWA World Tag Titles are rich in heritage and history and it is an honor to have our names etched into the history books along side the best of all time.
My singles career is really just getting started too, so we will see where that goes. But notice to whoever sits atop the mountain when I get there, move over or get off as I tend to take up a little space!
4. Do you feel tag team wrestling in general gets the attention/time/promotion it deserves? Does that impact your feelings one way or the other in terms of being a tag wrestler?
I don't feel that tag wrestling gets nearly the amount attention it deserves. Very few companies take it seriously and put any time into even having a tag division. It is usually just two guys they throw together and have the audacity to call a team. Tag team wrestling is responsible for some of the biggest moments in wrestling, and it is a shame that we seem to be losing it day by day.
5. You suffered a pretty severe injury to your wrist in April 2009. You were already back in the ring about 5 months later. How did you overcome that injury and what was your motivation to get back so quickly?
I was never supposed to wrestle again according to my doctor. However, I don't do well with being told what I can and can't do, and through diet and an insane amount of exercise I somehow managed to change his mind.
My motivation was simple, no one was going to pull me away from success. A few dislocated bones and shredded ligaments and tendons is pretty small compared to other injuries I've seen in this business.
6. You debuted with DG USA in April 2011 and your feud with (what would become) The D.U.F. of Sami Callihan, Arik Cannon and Pinkie Sanchez started almost immediately. This weekend you look to end that feud. What are your thoughts on the feud coming to an end once and for all?
Pinkie, Arik and Sami are all legit bad asses. The things I've seen them do and the beatings I've seen them walk away from are astounding. I respect them all, but my issue is the way they are going about doing what they are doing. They feel they are different from everyone else, fine. They think that they are outcasts, cool.
MY
issue is the new found, cocky attitude that they have found with the formation of their little group. It started in Atlanta. I have no problem losing as it's a part of our sport. Learn from it and move on. But when a group of "outcasts" form a gang and start attacking everyone who is not like them, then I have a problem.
At first, it was whatever. But then I started thinking, had they lost the first match as a team (against Dark City Fight Club) then maybe the little group doesn't happen. Maybe they wouldn't be attacking a young talent like A.R Fox. Maybe they don't decide to go after the legend that is Sabu. So I feel somewhat responsible for the D.U.F starting as I had the chance to stomp it out from jump and didn't. So I was more that happy to throw my name in the hat to be there to make it end.
7. Your singles match on Friday against Sami Callihan is not only important in the context of your feud, but also a battle between two of DG USA's homegrown stars. What would a win over Callihan mean, not only short term but also for the future of you in DG USA?
It would solidify my place in DG USA. I've been busting my behind for years in this sport and am finally starting to get my due. I have no problem working hard and proving myself, and honestly who better to do that against than Sami. Dude has been up and down the road, FIGHTING anyone who steps between the ropes to oppose him. Though his attitude has sucked with his little buddies recently, he has earned his spot. Friday in Boston, I do the same.
8. Finally, on Sunday, you partner with the legendary Sabu and A.R. Fox in "Extreme Warfare" against The D.U.F. You made the declaration to be included in this match, which is the culmination of multiple feuds intersecting in one bout. What do you add to this match and to your teammates?
I'm a juggernaut. I add raw power and intensity. I can throw anyone out of any move at any time, plus I have a chip on my shoulder. Mix that with the "I have no idea what to call that move" style of innovation that A.R Fox has and the sheer insanity of Sabu, that adds to a big mess being made of the D.U.F.
9. What are your thoughts on joining forces to team with Sabu and in a match he helped make famous?
I'm honored to even be in the same building. He has accomplished so much and was on the front lines on defining "extreme" wrestling. I think it is going to be interesting what will happen when the both of us have tables and chairs at our disposal at the same time.
10. Other than Akira Tozawa, you have yet to be matched up with other Japanese Dragon Gate talents. Who is at the top of your list to be in the ring with and why?
Though he isnt exactly Japanese, Pac. He is a staple of the roster and has a match of the year candidate every time out. He is a very hard worker in the ring and I think he still hasn't reached his full potential. The chance to square off with him would be something I'd be beyond excited about.
11. Many of the American DG USA stars have seen success with tours of Japan. What would a tour of Japan with Dragon Gate mean to you?
That I would have a chance to learn and compete with the best. These guys go night in and night out with very little to no rest and I want to show that I can do the same. Every wrestler who goes comes back better and that's something I strive to be.
12. 2011 has also seen you experience success in EVOLVE. Many people were impressed with your match with Johnny Gargano and felt it was a breakout performance and it was a springboard for more opportunity. Did you get that feeling and what goals do you have when EVOLVE resumes events?
I went into the match with Gargano with one intention. To make people remember my name. I feel I did just that. Did I think that it would garner me the attention that it did? No. Am I mad about that? No. Do I plan on riding my current momentum and taking my seat at the top of the wins board here soon? ABSOLUTELY.
13. A little over 8 years into your wrestling career, what is your most memorable accomplishment?
My most memorable? I'd say there are a couple. In October 2008 I did a match on ECW. On the surface it was nothing special, but it was the last time my Grandfather saw me before he passed away and that meant a lot to me. EVOLVE when I wrestled Gargano. Towards the end there were dueling chants and I had a lot of support. If you watch the match you'll see me look to the crowd confused. That was huge for me! And of course when I killed Stalker Ichikawa in April and the crowd chanted "you hate fun!" Turns out I love to have fun, I just dislike losing!
Two Spot Monkeys thanks Jon Davis for his time and appreciates the opportunity to provide you more information on this rising talent.
Do not forget to catch Jon's matches this weekend along with all of the other great wrestlers on these Dragon Gate USA shows, whether live (tickets available at http://www.dgusa.tv/storetickets.htm or by calling 267-519-9744) or ordering and watching live via WWNLive.com.