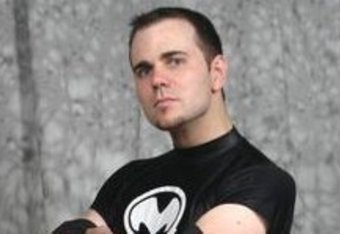 Mike Quackenbush has had one of the more distinguished careers in professional wrestling, but has also expanded beyond the squared circle and is also an author and podcaster as well. Plying his trade in CHIKARA for the most part, Quack shared his time with Two Spot Monkeys to answer 13 questions. Enjoy!
1. CHIKARA celebrated 10 years as a part of the pro wrestling landscape in November. What did that accomplishment mean to you specifically?

Quackenbush: I think it validates the overall CHIKARA concept in a big way. There is room for a more progressive-minded brand out there.

2. Do you take added pride in that CHIKARA has had the level of success that it has without the TV exposure the likes that ROH has had or being heavily involved in Internet Pay Per Views to date like other companies and almost defying the issues of what some call an "oversatured" DVD market to utilize that avenue successfully?
Quackenbush:
Sure. I think an overlooked part of our story is that we've accomplished all that we have without ever being cut checks by a millionaire backer or limitless resources from a hemorrhaging corporation. We've boot-strapped this crazy thing together in a fairly grass-rootsy way.

3. Aside from your Main Event bout for the CHIKARA Grand Championship against Eddie Kingston, what were your thoughts on the High Noon show as a whole and what does the iPPV future look like for CHIKARA?
Quackenbush:
I would imagine it is a medium we will visit again this year. The numbers were a real pleasant surprise for us, and seem to indicate our global fanbase wants us to try this again.

4. What are the goals of 2012 for Mike Quackenbush, in ring and out of the ring?


Quackenbush:
In the ring, there really isn't a lot left that I'd like to accomplish, truth be told. I was very goal-oriented for maybe 12 - 14 years of my career, and I crossed off pretty much everything on my To-Do list. Having said that, I would love the chance to team with Jushin Liger, I always enjoy wrestling against my students to test them and see them in action first-hand, and I would love to hold the CHIKARA Grand Championship, even if just once.

5. What can fans expect or look forward to from CHIKARA as Season 11 gets ready to kick off on January 28, 2012 in Easton, PA with "The Thirteenth Hat" and beyond?


Quackenbush:
The numbers really tell the story, to an extent. It's Season 11, not Season 2. We've matured as a company, as a group of performers, as a family. We were haunted by some dark specters in Season 10, and I hope in Season 11 you'll get to see the sun shine on us a little more. We've chased the dark clouds away.

6. How does the closing of The Asylum Arena impact CHIKARA running in the Philadelphia area? What are some of your favorite memories of that building, either as a fan or from the shows you've been a part of there?
Quackenbush:
In short, if the renovations of the Arena do take place as announced to the public, and the new building proves too pricey or too pretentious to house wrestling, than Philadelphia will cease to be the center of the alt-wrestling universe. It was rewarding to deliver some of our own history in a building that has such immense history behind it. And you can't forget history, lest you be doomed to repeat your past mistakes. At the same time, you've got to keep an eye on the future.

7. CHIKARA has been known for the diverse array of talent that has had the chance to participate and wrestle in many capacities. What do you attribute to creating and fostering those various relationships, especially for Japanese promotions where there often seems to be a "them or us" mentality? Are there any other promotions you would still like to see CHIKARA work with, be talent in for a weekend or a greater partnership?
Quackenbush:
We've been very fortunate in that the vast majority of the organizations we've wanted to work with have been receptive, and professional, and rewarding to partner with. Generally speaking, we want to keep the overall tone and aesthetic of CHIKARA in place, and so to a degree that dictates who we are willing to do business with. You have to be selective in that regard. There are companies out there that just don't abide by simple obvious guidelines of business, and there are those that don't really even grasp the pro-wrestling business. There are organizations out there that are anything but organized, or others run by people that "play" wrestling with their friends and mistakenly think that makes them professionals. You have to be able to discern between the real players and the goofs. Treat professionals with respect - like professionals. And realize the goofs are what they are.

8. On the flipside of the various International Talents that have made stops in CHIKARA, many of the regular wrestlers are "home grown" from the Chikara Wrestle Factory and have seen very good success. Is that another point of pride for you and do you think that it is a very good selling point for someone who would consider getting into pro wrestling as a profession? What is your role still with the Wrestle Factory?


Quackenbush:
I am still the head trainer at the Wrestle Factory, and have been for just over ten years now. I take immense pride in seeing the Wrestle Factory grads evolve into the performers they are. The ones that evince dedication and real heart, become our stars. The ones that don't evince these qualities just fall by the wayside it seems. Our stars are the ones we built from the ground up. Even those that started in wrestling before coming to CHIKARA - Sara Del Rey is a great example - end up at the Wrestle Factory for periods of time. I think the few years Sara was able to spend training with us has helped mold her into the best all-around female wrestler of 2012.

9. A question many fans are eager to know the answer to: Will there be a Trios Tournament in 2012 and has there been any conversation as to where those shows will be held?
Quackenbush:
If there's been a conversation on that topic, I have not been part of it. Wink's not exactly an open-door kinda boss.

10. Jushin "Thunder" Liger is a wrestler that you looked up to and was part of the reason you became a pro wrestler. What was it about Liger that created those feelings for you and put you on the path you took? Were there other wrestlers that you looked up to as well?
Quackenbush:
Liger was basically the opposite of guys like Hulk Hogan and the Ultimate Warrior. I'm not saying that I don't get excited to hear "Real American" or see the Warrior run to the ring like a crazed maniac and shake the ropes, but the actual wrestling style of guys like that, guys that were dominant in the American scene for years, did not appeal to me whatsoever. They were great showmen. And lousy wrestlers. Liger, on the other hand, was fresh, and elegant, and innovative and artful. That really captured my imagination. The same is true of guys like Owen Hart, the 1-2-3 Kid, Manami Toyota, original Tiger Mask, and others as well.

11. Considering the regard you hold for him, what did it mean to face off, one-on-one against Jushin Liger on December 11, 2010? Is that a situation where you are comfortable with the memory and legacy that was left in that one bout or would you want to have another opportunity in the ring with him?


Quackenbush:
I am content with that match, in that I wanted to wrestle a Liger match, that showed the influences of the people that inspired me and shaped my style. As surreal as that whole day was, it really ended perfectly, in that as we parted ways, Liger said to me: "I would love to wrestle you again in Japan." That may never really happen, but it was, for someone like me that always thought Japanese wrestling represented the pinnacle of our artform, the most wonderful thing my idol could have said to me.

12. How much longer do you see yourself wrestling? When the chapter closes on the career of Mike Quackenbush, Pro Wrestler what does the next chapter look like? When you call in a career, what do you believe your career will be defined by?


Quackenbush:
I've been asked this a lot lately, which I infer to mean people are getting tired of seeing my weary face. There was a time when I thought that perhaps any legacy I left behind would be encapsulated by the moves I've invented, or the blending of styles I tried to pioneer and champion. But I think that stuff has a real shelf-life and perhaps is ultimately irrelevant. My trainees will probably all go on to be bigger stars and make a greater impact than I ever did. I've dedicated my entire adult life, and years prior to that as well, to the pro-wrestling industry, and it will be a sad day when pro-wrestling doesn't let me sit with it for lunch in the cafeteria any more. A sad day indeed.

13. How can fans best follow you and support CHIKARA? If a new fan discovers CHIKARA what is the best way that they can get acclimated to all of the CHIKARA backstories and history?
Quackenbush:
Well, our YouTube channel is a great place to start. We release 4 or 5 new videos there for you to watch every single week. It's a great jumping on point, and of course it's totally free. Nothing beats seeing us live though, as our fans will tell you. If you are bored with pro-wrestling right now, CHIKARA is the cure you've been waiting for. Come see us when our never-ending tour comes to your area!
Author's Note: This interview was conducted before this past weekend's angle with Ring of Honor, so we didn't have a chance to ask about that!
Thanks to Chikara and Mike Quackenbush for taking the time to join us here at Two Spot Monkeys! Chikara kicks off their 11th season this Saturday night with "The Thirteenth Hat" in Easton, PA! For more info, check out chikarapro.com!
Have you "Liked" us on Facebook yet? If not, head HERE and click the Like link to stay up to date on when new articles are posted here at Two Spot Monkeys!