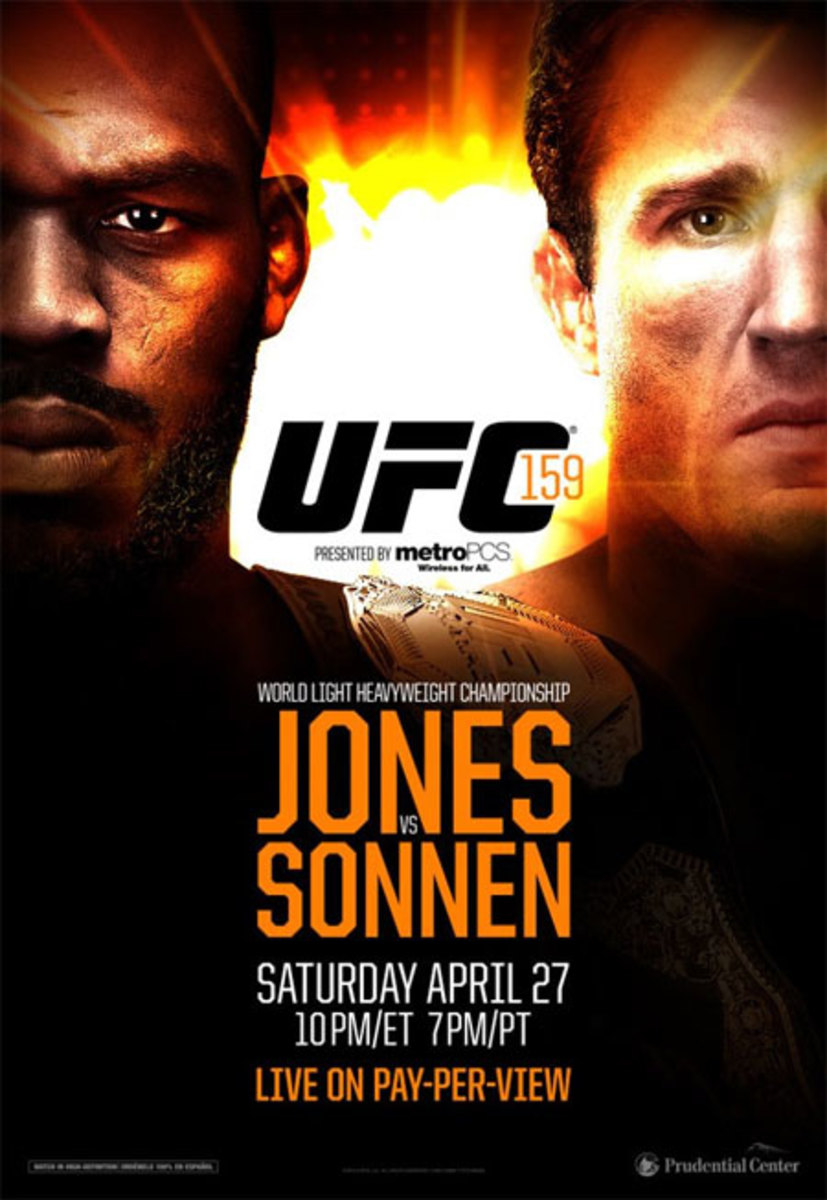 UFC 159 comes to you live this Saturday night from Newark, NJ, and is headlined by a Light Heavyweight Title match up between the champ, Jon "Bones" Jones and the challenger, Chael Sonnen, there are also some other intriguing match ups on the undercard on PPV, so Tom and I thought we'd take a look at the five matches that will be featured on the PPV portion of the card, hope you enjoy!
Jon Jones vs. Chael Sonnen for the UFC Light Heavyweight Title
JIM:

Jones comes in as the defending UFC Light Heavyweight Champion and is 17-1 overall, and is 11-1 in the UFC, he's won 8 fights in a row, and let's be honest here, his DQ loss to Matt Hamill, he was completely winning and it was a weird stoppage, so the guy should be 18-0 and 12-0 respectively, which is amazing.

Sonnen makes his light heavyweight debut for the UFC, and is 27-12 overall and went 5-3 in the UFC Middleweight division, losing two title fights to Anderson SIlva, and also a submission loss in his UFC debut to Demian Maia, he's coming off a loss to Silva last July.

These two were coaches on the most recent season of The Ultimate Fighter and seemed to get along fairly well on the show, and you can tell Sonnen respects Jones.

I think Sonnen is probably the best middleweight in the world not named Anderson Silva, but at 205, he's totally unproven and is giving up 3 inches in height and likely a pretty substantial reach advantage to Jones as well.

Sonnen always has a shot, but Jones has so many creative ways to take an opponent out, I see Jones winning by KO or TKO in the 2nd or 3rd round.
TOM: For our blog and podcast being often heavy-pro wrestling, it is only fitting that a Chael Sonnen fight be what we discuss right of the bat here. Sonnen is the UFC king of the heel promo and even with his respect for Jones, that has still come through.

I think this is a really good fight on paper.

With Jones' (dare I say) meteoric rise in UFC, the question that remains is: Can he be stopped or stunted?

As you may have seen last week, Gilbert Melendez gave Benson Henderson a battle and really tested him.

Can Sonnen be to "Bones" what Melendez was to Henderson?

Much to the way Jim points out above, Jones has found (and likely will again here, if needed) creative ways to take his opponent out.

I'll take Jones via TKO in Round 2.
Michael Bisping vs. Alan Belcher
JIM:

BIsping is 23-5 overall and is 13-5 in the UFC, and has lost 2 out of his last three fights, to Sonnen and Vitor Belfort with a win over Brian Stann sandwiched between those.

Belcher is 18-7 overall and 10-5 in the UFC, he's coming off a decision loss to Yushin Okami, but had won 4 in a row prior to that loss.

Both guys need a win to get back on the track to a title shot.

Bisping is one of those guys who wins a bunch of fights and then blows it when he's a fight away from a title shot.

Belcher also could have been in line with a win over Okami, but didn't get the win there either, so it will be interesting to see what happens here.

I like Belcher, I really do...but as I said, with nothing much on the line, Bisping usually looks really good and tough, so I'm going to go with Bisping getting the decision win.
TOM:

There is a lot of bad blood here between the two and some of the soundbites and tweets heading into the fight.

I'd like to see Belcher move to that next level and had previously felt that way about Bisping.

Have both men squandered their previous shots and is this a middleweight gatekeeper eliminator fight?

Only Joe Silva and Dana White likely know.

I hope the fuel igniting the issues between both men carryover on Saturday into the Octagon and the fight delivers.

My pick is Bisping via Split Decision.
Cheick Kongo vs. Roy Nelson
JIM:

Well, one thing is for sure in this one, these two will throw hands!

Kongo is 18-7-2 overall and is 11-5-1 in the UFC, coming off a win over Shawn Jordan.

Nelson is also 18-7, but is only 5-3 in the UFC, however has won two in a row over Dave Herman and Matt Mitrione.

Nelson can wrestle really well, but Kongo has shown some increased takedown defense (when he fought Cain Velasquez back in 2009 it was non-existent, but has come a long way since then).

I do think if Nelson wants it on the ground, he'll get it there.

If they stand and bang, it's anyone's game really and both have pretty decent chins.

I'm going to guess they stand and bang in the first and then Nelson realizes that won't work and grinds out a decision win, which won't likely sit well with the fans.
TOM:

On the heels of Daniel Cormier stifling Frank Mir with "grind it out" approach last week, I certainly agree with Jim's assessment that the fans won't be happy if Nelson and Kongo engage in a grappling battle for much of this fight.

Kongo is the proverbial HW gatekeeper, so Nelson needs to get past him here to move forward.

I wonder if that happens if Nelson gets a shot to avenge his previous loss to Frank Mir.

The comes down to Nelson's ability to impose his will over Kongo or not; Mark Hunt was able to put Kongo down and I view Roy Nelson as better than Hunt.

I'll go for the hope that fireworks do fly here and pick Nelson via 1st Round TKO.
Phil Davis vs. Vinny Magalhaes
JIM:

Davis is 10-1 overall, and 6-1 in the UFC, with one no-contest.

Magalhaes is 10-5 overall and 1-2 in the UFC, though his two losses came back in 2008 & 2009 before returning to the UFC with a submission win over Igor Pokrajac back in September.

Magalhaes is a submission specialist while Davis is a wrestling machine who knows a few submissions himself.

I see this one being a back and forth battle, with Davis using his wrestling to keep it on the ground, but he's going to have to be careful if he does that, as he could find himself being choked out if he isn't careful.

In the end, I think Davis gets a decision win in this one.
TOM:

My first inclination is to go Davis via submission, but Magalhaes hasn't fallen to a sub since 2008!

I expect this to be an active battle, perhaps challenging the main event for potential Fight of the Night.

I cannot go with any other pick than Davis via Decision.
Jim Miller vs. Pat Healy
JIM:

Miller is 22-4 overall and 11-3 in the UFC, with his only losses coming to the cream of the crop in the lightweight division, Benson Henderson, Nate Diaz and Gray Maynard.

Healy is a veteran with a 29-16 record, he did lose his only UFC fight, but that was back in 2006.

In Strikeforce, he was 7-1 with his only loss coming to Josh Thomson back in 2010.

This should be a war as well, and it too could go to a decision, but I think Miller is just too tough in the submission game, and I expect he'll catch Healy in the 2nd round with a submission.
TOM:

For being rather young at 29, Healy appears to have a lot of mileage with 45 pro fights under his belt.

As Jim states, with his last loss to Josh Thomson (who look very impressive last week), on paper he should have the talent and ability to give Miller a battle.

Will Miller's past and the losses only against the best of the best be enough to put him in the driver's seat in this contest?

I believe so and I take Miller via Submission in Round 1.