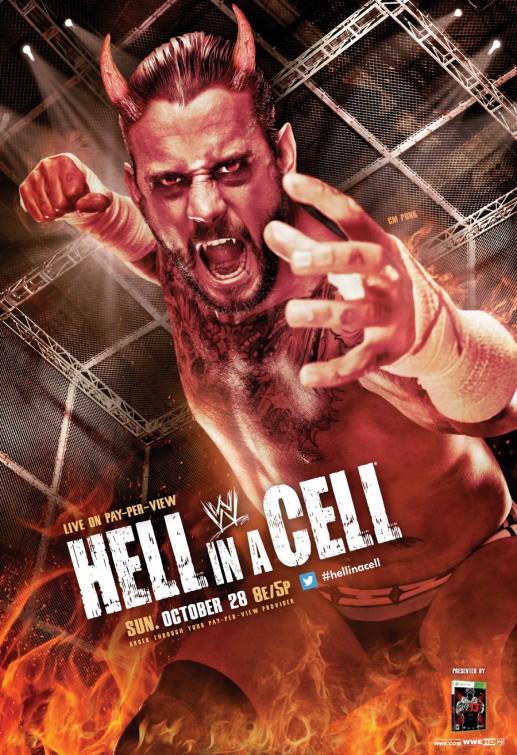 Tom and I had a great conversation on the phone a couple of days ago, to do this Head 2 Head, as Tom is out of town here at the end of the week. Honestly, we really should have made the call through Talkshoe because we had some great conversation that would have made for a great podcast we felt! So, consider this the podcast that never was! I'll be posting some of our thoughts on each match and of course our picks! As a reminder, I currently hold a 10 match lead on Tom in our 2013 Head 2 Head, so Tom really has his work cut out for him. But, as you'll see, he's got a shot to make up some room here!
Kickoff Show - Intercontinental Title Match
Curtis Axel (c) vs. Big E. Langston
Langston is apparently a face now. Would have been nice to have WWE craft a short quick story, or even a scene where that actually happened (such as instead of having Punk save him on Raw, have Punk get beat down and have Langston make the save, see, it's not that hard WWE creative!). Tom and I both feel that Axel will walk out with the Intercontinental Title, however, we do differ on our winners and the method by which Axel will retain!
Tom's Pick:
Big E. Langston (by DQ)
Jim's Pick:
Curtis Axel (likely by some shenanigans)
Los Matadores vs. The Real Americans
This match gets made officially on Smackdown tonight, but it's been clear they've been headed in this direction for some time now. Gotta go with who they seem more behind right now, and that's Los Matadores and especially El Torito getting in a good spot or two.
Tom's Pick:
Los Matadores
Jim's Pick:
Los Matadores
WWE Tag Team Title Triple Threat Match
Cody Rhodes & Goldust (c) vs. Seth Rollins & Roman Reigns vs. The Usos
The Usos getting added into this seems very interesting to both Tom and I. Why else would you do it except to move the titles to them? The Rhodes Boys and The Shield are an important part of the top storyline with Triple H, so at this point, the tag titles really don't need to be there (thus freeing up the titles to bring more meaning to other matches as well). With the tag division they've put together now (Tons of Funk, Real Americans, Los Matadores, Usos, Shield, Rhodes, Prime Time Players, Santino/Khali, etc.) they actually could do something with the tag titles for the first time in forever. To do that, get them on an established team that deserves the shot.
Tom's Pick:
The Usos
Jim's Pick:
The Usos
Divas Title Match
AJ Lee (c) vs. Brie Bella
We differ on this match as well. We both feel that Brie Bella will be the one to dethrone AJ Lee eventually and Tom is of the belief that her time is now! While I could see that, with Bella getting 2 pinfall victories over AJ recently, I can't help but think it's so they can setup the "you beat me when the title wasn't on the line, but when it came time to win the title, you couldn't get the job done" type story with Bella and Lee, so I see AJ keeping it, likely with help from Tamina, who has been great in her "Diesel-like" role!
Tom's Pick:
Brie Bella
Jim's Pick:
AJ Lee
Handicap Hell in a Cell Match
CM Punk vs. Ryback & Paul Heyman
Well, we both thought Ryback would win the match earlier this month on Battleground, so, what do we know about this feud! It seems like while Hell in a Cell could be the blowoff, neither of us really feels that it will be. This can easily go on at least to Survivor Series, if not further, so, to get there, you've got to have Ryback and Paul Heyman win this one again...perhaps with Heyman even getting the pin again on Punk. Can you imagine the promo on Monday if Heyman can say he's pinned Punk TWICE? Crazy!
Tom's Pick:
Ryback & Paul Heyman
J
i
m's Pick:
Ryback & Paul Heyman
World Heavyweight Title Match
Alberto Del Rio (c) vs. John Cena
Well, Super Cena has healed and is back! Strange to see him thrust into the World Heavyweight Title picture here, and both Tom and I feel that you don't bring Cena back early just to lose to Del Rio, so, yep, Cena wins the World Title here. Now, will he leave as champion...
Tom's Pick:
John Cena
Jim's Pick:
John Cena
Will Damien Sandow cash in his Money in the Bank briefcase?
Tom and I both believe that Sunday night is Damien Sandow's night to finally cash in his briefcase and win the World Heavyweight Title, and he'll be able to say he beat John Cena for the title as well, which will only add to the promos he'll be able to cut. I hate how they have booked Sandow since winning the briefcase and have very low expectations for his title reign, but as far as both Tom and I are concerned, Sandow does cash in (and win) on Sunday night
Tom's Pick:
Yes
Jim's Pick:
Yes
WWE Title Match - Hell In a Cell - Shawn Michaels is the Special Guest Ref
Daniel Bryan vs. Randy Orton
This is one where I think things can go either way. Both Tom and I believe we will have a WWE Champion after this match and that we'll move forward with things from there. Tom believes that Randy Orton will be winning the title, with Shawn Michaels having to count down the shoulders of the man he trained, and him showing angst in having to do that. I like that idea, and almost went with Orton thinking something along the same lines, but Bryan simply has to win here in my eyes (which probably means Tom is right). And both Tom and I agree that if this entire storyline doesn't end with Bryan tapping out Triple H, than it has been a complete waste of time. I hope I'm right and that we get a WWE Title reign for Bryan that at least lasts more than 24 hours...but we shall see on Sunday night!
Tom's Pick:
Randy Orton
Jim's Pick:
Daniel Bryan
What do you think of our picks? Are we crazy? Do you agree? Let us know!